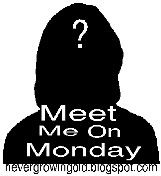 Questions:
1. Have you (only you..not a group) ever won first place in anything? yes I was in gymnastics in high school and I wone gold on the bars.
2. Are your toes always painted (sorry guys...this question for girls only)? no only after I get a pedicure
3. What color eyes do you have? brown
4. Look to your left....what do you see?a white wall and a little feather ther is a window looking in my front yard.
5. Soft cookies or crunchy cookies?both