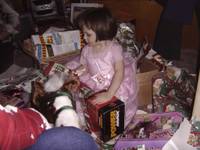 This is maggen this christmas kids at christmas are the best

Well it all me just me at home tonight Bruce had to go to work tonight and will not be home till tomorrow late. Well school was good today I don't think that i will have to go to school tomorrow becuse of the rottating strike that is going on with the sport staff. I hope that it will be over soon.
Well to I learn somthing new in Crim with the women involved with the sistem had how they are still being abousd.did you know at one time it was ok be be betton by your husband but the object could only be the with of his thume.
Why women do not commit crime?
You might be a redneck if....
Your bridal veil was made of window screen
"Husbands cam and go: children camd and eventually go. Friends grow up and move away.But the one thing that's never lost is your sister."-Gail Sheeny