Lets start of with it's Monday already were did the weekend go. 11 days to the big move wow it like the days go by faster and faster. Today we have Gymnastics, hockey and some running around in town to do. My husband worked most of the night so he will be home today too. I have time for Monday minute and that will be all today
.
What started out as a good day turn into a horrible one meager car accented with 2 peaple dead both for close to were my husband grow up. Both he personal know quite well.
News release one
News release two
1) Would you rather be stuck on a bumpy roller coaster while having to pee extremely bad OR be stuck on a crowded elevator with really bad gas with co-workers? I so would rather be on a Bumpy roller coaster.
2) What is the one thing you miss most from your childhood? Play with toys allday down in the basement with my sister.
3) If aliens exist, what do you think they look like? (describe) They would look like we do so they fit in and we could not tell who was human or alien
4) Would you rather discuss your body weight or your salary with people that you know?my salary because it dues not exist stay at home moms do not get paid.
5) If you were stuck in a predicament like in the movie Alive, could you revert to cannibalism? If so, how would you feel about eating your deceased friends and family? I do do not know I think I would hope that i was the first one dead so the people I was with could eat me.
6) People that are born blind, what do they dream about? Sounds? I think they have the same dreams and us most of the time they do not remember them in the morning.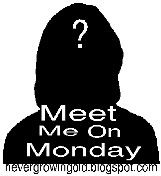 1. Do you eat Sushi? no way |I do not eat any fish
2. What kind of bath soap do you use? what ever is no sale or i get as a gift there is a pile of different one under the bathroom sink ( or in a box in the trailer right this second)
3. How often do you talk to your Mom? almost everyday she might driver me crazy but i love her
4. What TV shows do you watch on a regular basis? lots the PVR recoded stuff all the time and i watch as i have time some of the shows are CSI all of them, Privet Precise, Law and order and Harland
5. Did you start Christmas shopping yet? some of it but with the move I am finding it hard to get in the Christmas thing.


Just because i love Blog hops they are so much fun!!
Ok this is driving me nuts why is the information that should be on the side of my post now at the bottom of them and how so I fix this??