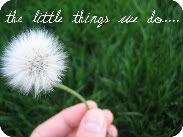 1. The best deal I've ever gotten is
hmm is is hard i feel most of the time i am not so luck so a good deal Iam thinking would be this house we live in now we got it thou a privet sale and well then Peale waited a hole year for us to by it.
2. If I were hosting a dinner party and could invite people from my fantasy guest list it would include
3.
Something that inspires me is
a
nything and everything it all depends on the day
4.
If I could only choose to eat one flavor of food for the rest of eternity (sweet, salty, spicy, bitter....) I would have to go with
i thinking it would be sweet but if we could have 2 I would add spicy
5. I dream about
nothing at night and if i do i never remember
6. My weekend will be spent
with family and i play hockey on sunday
7. If I could only watch one movie or TV show for the rest of my life, it would be
Heartland for tv and time to kill for a movie
.